As you may remember, 
when we left our hero
, he was signing some waivers saying that he refused ambulatory care because there was no fucking way he was going to spend the weekend in Youngstown.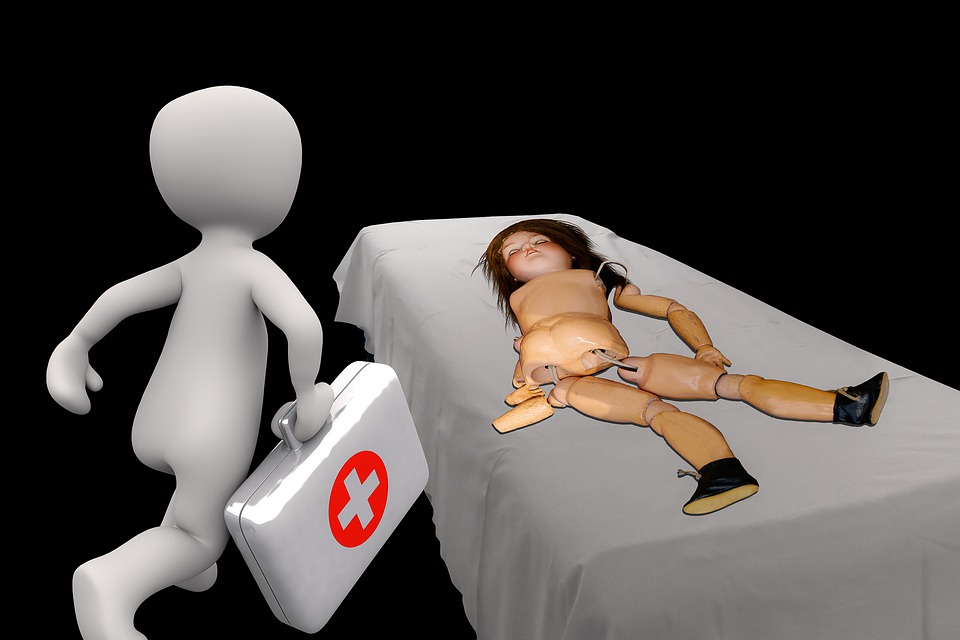 (How I picture a weekend in Youngstown)
Actually, it was Hubbard, but who ever heard of Hubbard, Ohio, except people from near Hubbard, Ohio.
Anyhow, it didn't have anything to do with the town, as a long-haul trucker I didn't get paid if the wheels aren't turning. Also, there was the newly acquired head wound that I needed to get stitched up, but as any Canadian can tell you, you don't go to a hospital in the US if you don't have health insurance.
So my dilemma was that I had to get the load secured and back to Canada, where I wouldn't have to pay to go to emergency. I figured that St. Catherines would be easier to get to with the truck than Niagara Falls, so this was my plan.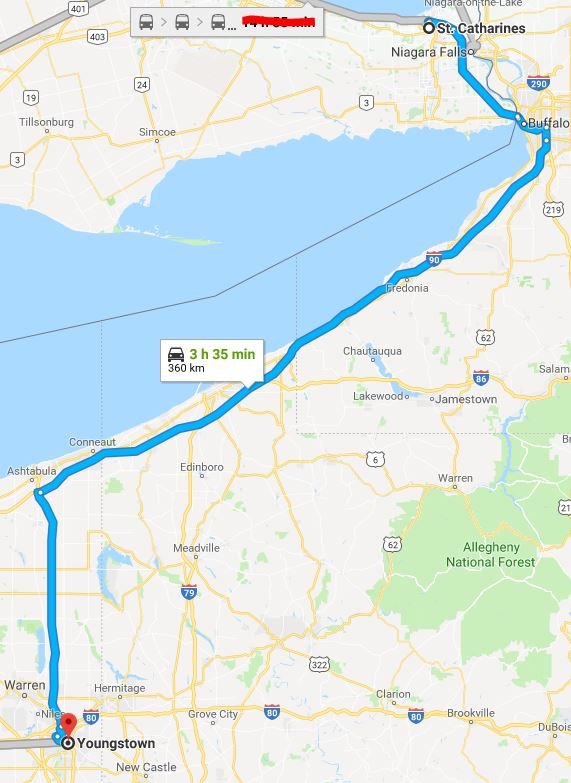 The warehouse guy came out and helped me chain down the rest of the load and I whipped over to the truck stop to weigh my axles.
They were out by a bit.
So I had to go back and get the load shifted ahead. By the time I got back to the truck stop, it was late afternoon and my head was pounding pretty bad. I also had to change my dressing and I was feeling really tired, so I thought I might grab a nap before heading north.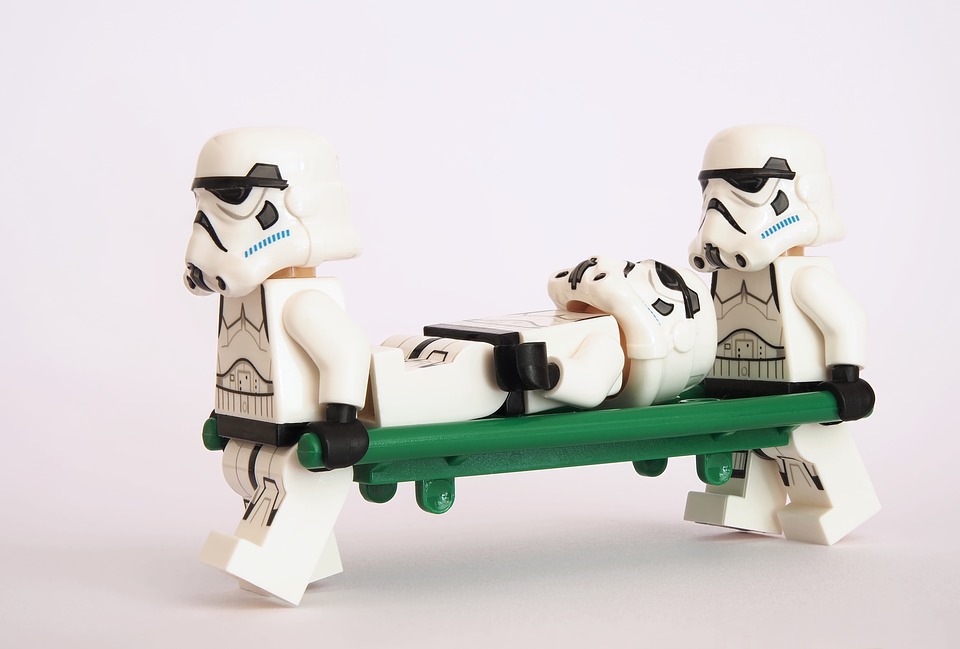 (I thought they just left their dead and wounded.)
I should back up a bit and mention that throughout this time I was in contact with my boss who was urging me to go to the hospital and use his credit card. While I was screwing around he sent another driver that was passing through near me to stop in and see how bad I was.
He showed up in the truck stop washroom while I was trying to change my bandages.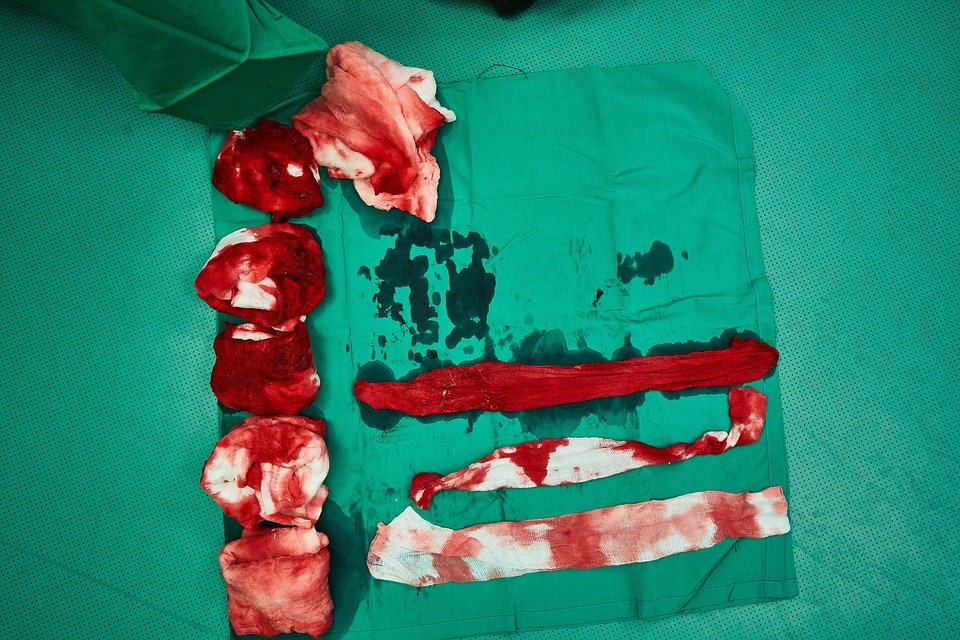 (It wasn't this bloody, but close)
He said that Rudy was worried about me and asked if I needed help with the dressing. I said that I would really appreciate that as it is hard to work in the mirror.
He said that Rudy thought he could take me to the hospital and that he understood why after seeing my head. I guess the flap had crusted up pretty badly. He had the credit card and had already unhooked his trailer, so off we went to the hospital.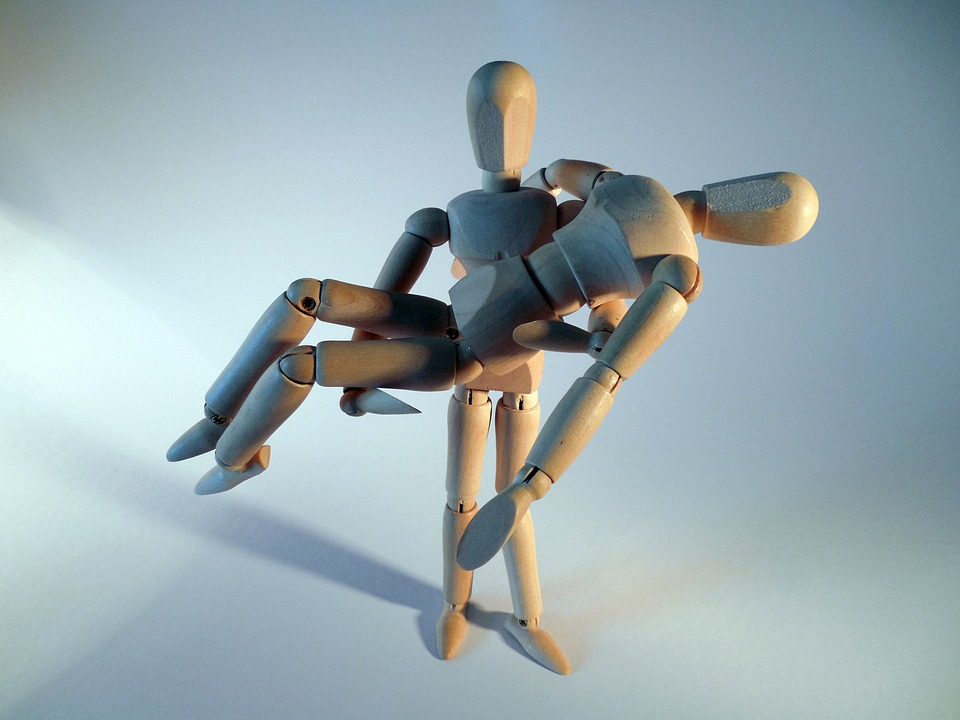 (It wasn't quite this dramatic.)
When we got there we had to cross a picket line because the hospital was on strike. I wasn't too worried about it until I saw the sign that said something about scab labor and my wound festering or something like that. Thanks, that's fucking helpful.
When we got inside there was a lady doing the admitting, a pretty nurse, and a doctor from England. I guess they were the scabs. Oh well, lucky for me they were there.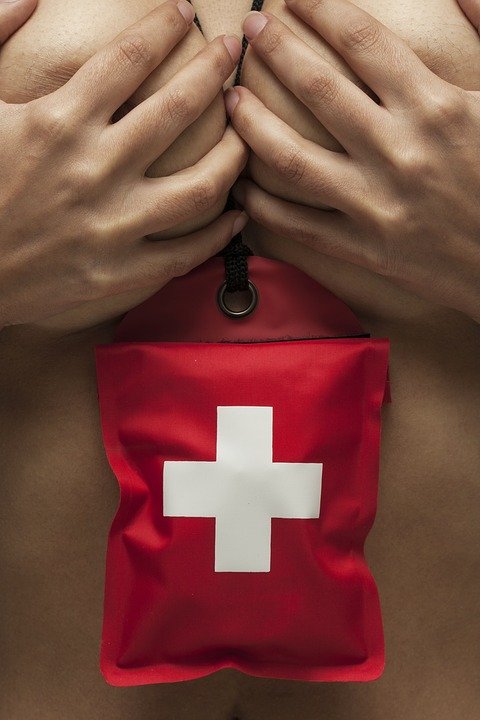 (I sure do love pixabay.com)
When the doctor saw me, he was a little perturbed that I had waited ten hours to come in. I guess there was a bit of rust or dirt still in there and he had to cut away some of the edges that were no good, but he got it stitched up. While he was stitching me up he asked where I was from.
I told him and he stopped what he was doing and asked me what the hell was with people in Canada. I said I didn't know what he meant and he explained that since he had been there he had met three Canadians before me. One was the nurse, one was an elderly man that had been in a car accident and broke his leg and just wanted a splint put on it. Then there was a teenaged boy that was in a hockey tournament that had his eye socket fractured in the game that just wanted to get back to the arena for the last game. He said, "What do you guys think, you're made of steel or something?"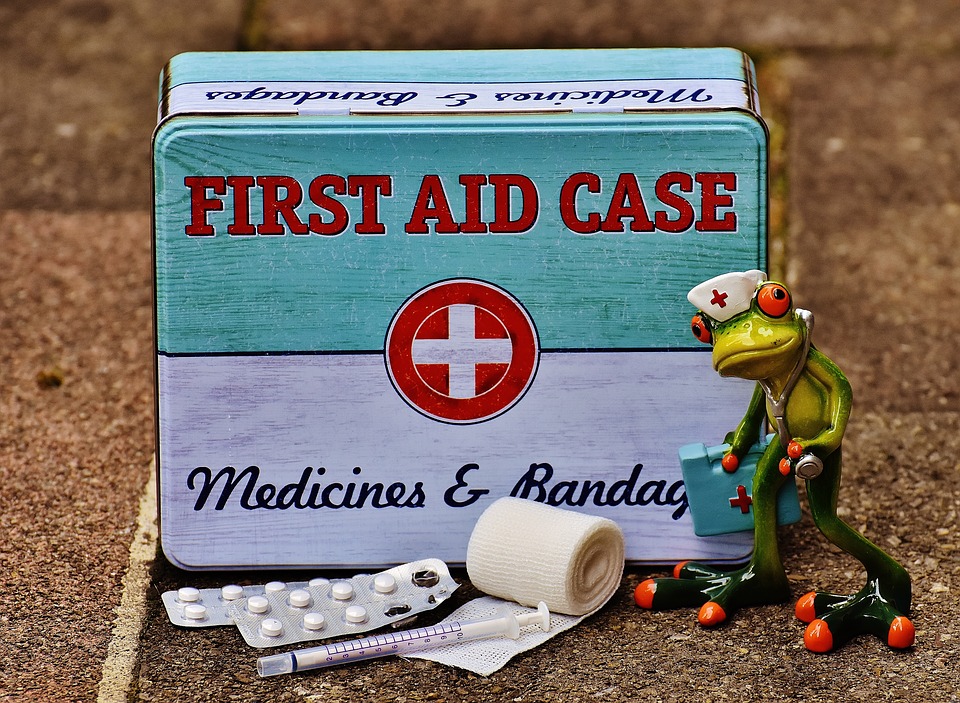 (Come on, these pictures are cute.)
I said, "No, what we're not made of is money, and if we can make it four more hours we won't be spending thousands of dollars here."
He said that he thought I did this at work and when I replied that I had, he told me that it was all covered by worker's compensation. I asked how much it would have cost and he figured about US$1200. Just to keep this face pretty.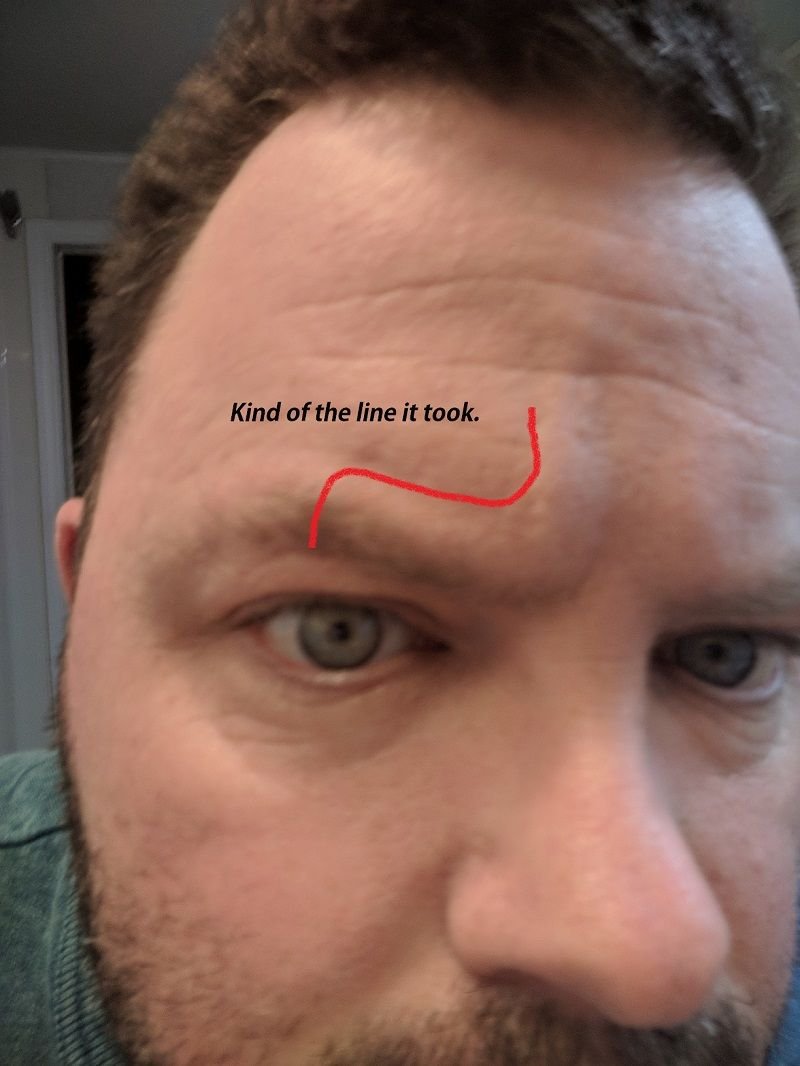 (Like how I used red to give it that real wound look?)
All in all, it was an above average run. Oddly not the worst one I had ever been on, but definitely not the best. The way I look at it is that I saved the company $1200 by getting hurt on the job and I didn't even get a raise.
P.S. While I was looking around I found this at http://fox8.com/2017/07/29/hubbard-ohio-factory-owner-says-she-has-jobs-but-few-sober-applicants/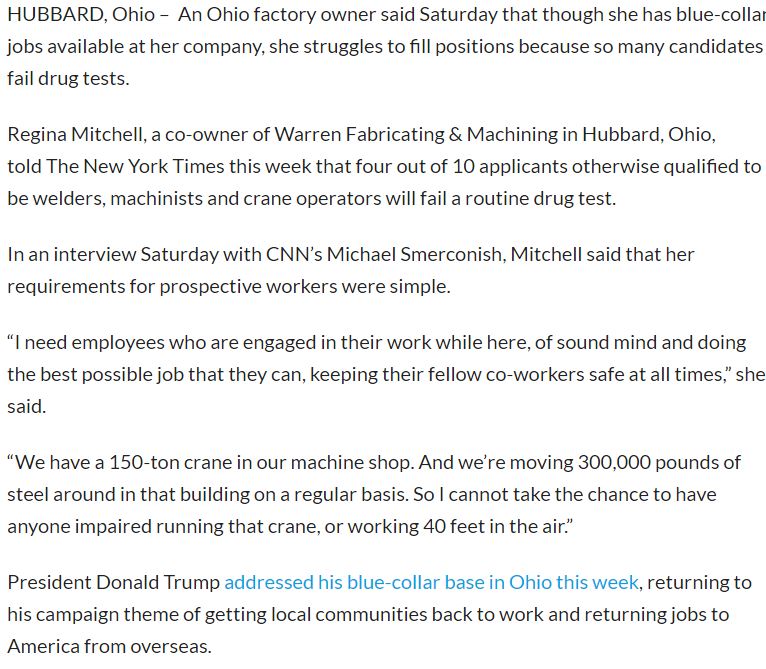 If he's going to MAGA, he should get the fuck to work.