I'm linking this post up for the challenge grid at Yeah Write. Come and check out some of the talented writers over there. You shan't be disappointed.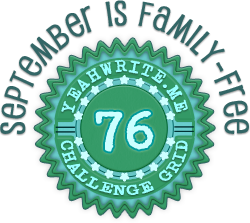 How Scooter's cousin, Handsome Bastard and I ended up coaching a hardball team in the Legion league escapes me now, but we were really doing a good job. We would practice once or twice a week, which was not common in that level of play, and our team was seeing a big improvement. The kids were making friends with each other and the mommies were out in their shorts and tight shirts. Everything was right in the world.
Then the league supervisors came and took our two top players, replacing them with the two weakest players from the lowest ranked team.
It was explained to us that our team was far better than the others, and that it wasn't fair to the kids on the weaker teams to always lose their games. They were trying to make it so that it's not a matter of winning or losing, but just going out and having fun.
I was pissed. Royally fucking pissed. These little boys and girls were taking extra time each week to go to practice, improve their playing skills, and grow as a team. They were forming bonds through hard work and learning new skills and now this was being taken away, because they practiced and got too good for the league. The two guys that got traded out were upset at being uprooted from their new and old friends, and put into another group of players that they now had to get to know. I voiced my displeasure at this, and thought selfishly about how hard we were going to have to work with the two new girls that were deathly afraid of the ball or any sort of movement.
Yes, I was ticked off that our winning team was being split up and how we maybe weren't going to be #1 anymore. I thought about how hard we were going to have to practice to compensate for our new arrivals, and how sad it was going to be now that Ryan's mom wasn't going to be sitting by the bench in her pretty sun dress. I didn't think about how the two kids that loved to play ball, and were happy to get to have some extra practice time, now didn't get that, because the other coaches were too busy with their own kids, jobs, life to have time to arrange a couple of hours each week to give them that extra bit of play time.I think one of the kids used to come and practice with us, but I was partying pretty hard back then, so I could very well be wrong.
After a few more weeks of winning, the powers that be came around and switched two more kids out for some less ambitious replacements. The kids were getting mad by now, and so were some of the parents, but I doubt anyone was as mad as I was. I was seething inside, and for whatever reason, I just didn't want to let it go. I became owly and ignorant with the management and the other coaches, and I started to let it show on the field.
One night, we had a teen-aged kid umpiring our game, and he was making the worst calls I'd ever seen. It wasn't just against our team, either. The other coach was voicing his opinion as well, but he didn't quite go to the lengths that I did. I walked up to the ump and told him that if I ever saw him on one of our diamonds again, that I would smash his fucking skull in with a fucking baseball bat. I said this clearly and concisely, and in front of some of the parents. If I was my kid, I would have gotten a belt out, and whipped my ass until I couldn't sit down. I'm ashamed of myself for allowing such a loss of control, for making someone feel threatened and belittled, and for being such a fucking whiny little baby.
Needless to say, between the possible charges of uttering a death threat (The kid's father was a cop.), and several of the mothers not wanting me around their kids anymore, the management was forced to ban me from coaching sports within the Legion leagues. It was a pretty sound choice on their part, and I don't blame them for it. If I had a kid on the team, I probably would have demanded it too.
Until I sat down to write this, I hadn't thought too much about my actions in the matter. I had played it off as everyone's fault, but mine. In a way, I wish that it hadn't come up tonight in a conversation with a friend, but in another way, I'm glad it did. It gives me a chance to reflect upon a younger, more hateful me, and be glad I'm not still that guy. I really find it hard to believe I ever was, but I know it's true. I don't know what made me like that, or what made me change, but I'm so glad that I did.
Life is too short to be so fucking angry all the time.
Give a moment or two to the angry young man, with his foot in his mouth and his heart in his hand,
Birdman